This wedding day radiated family love and the importance of togetherness. Kim & Troy's two extremely cruisy (and gorgeous) kids were with us from early morning easter egg gobbling to late night dance floor shaking. There was no separation of this family of four for the entire day, which ensured every minute was filled with energy, fun and entertainment. For example when son Remy crept just a little too close to the ocean water or when daughter Leah decided that showing off her under garments was way more fun than showing off her flower girl dress.
Drift wood centre pieces, a sandy cake, open mic speeches, a very relaxed ceremony, a fresh Autumn day and one absolutely stunning wedding dress. This day truly was such a pleasure to capture and experience. Congratulations to the four of you and enjoy sharing the same surname!
Sheree xx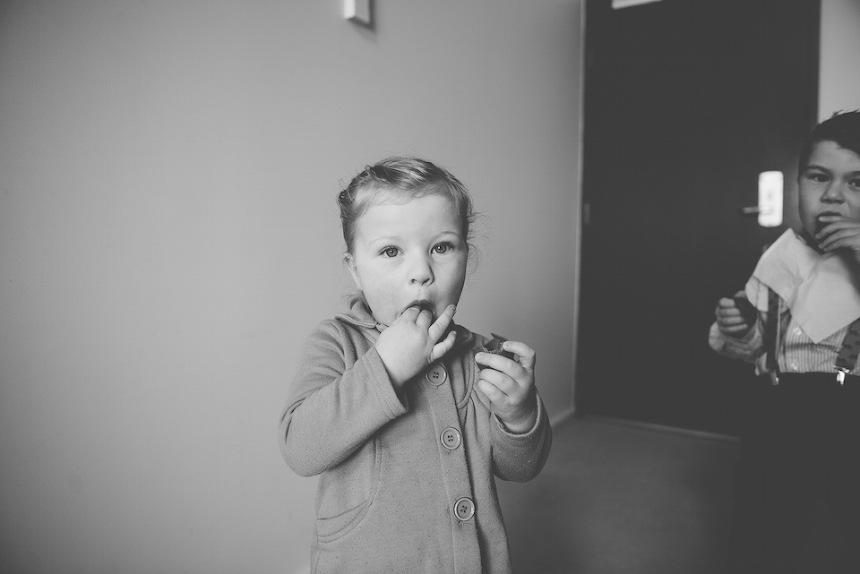 Bridal gown: Lover the label
Flower crown: O'Grady's florist
Brides shoes: Studio G.A.S Warrnambool
Wedding rings: Leske's Jewellers
Flowers: O'Grady's Florist
Jewellery/accessories: cuff links: Etsy. 
Kim
's rings: 2 antique rings, one from my mums side of family and the other from my dads.
Leah's dress: Dollcake. Shoes and tights: cotton on kids. Cardigan: target.
Grooms suit and tie: Clancey's. Shirt: Pitstop. Shoes: Windsor smith, Faulls.
Remy's suit: target. Shirt and braces: pumpkin patch. Shoes: walnut, lovlee little ones.
Ceremony, reception and catering: The Pavillion.
Wedding arch: handmade by Troy.
Cake: Made by Troys sister Kellie. (Lego people borrowed from Remy, I painted the lego lady's hair as he didn't have one with blonde hair)
Reception decorations: We used jars and bottles for vases that I painted. The candle holders we made from driftwood we collected from Foster, Vic. We also borrowed the lace buntings from friends.
Wishing well: Spotlight, painted and decorated by 
Kim
Guestbook: fingerprint tree from The Little Owl eBay store.
Hair and make up: Paris hair.
Music: Jackson Greene
Celebrant: Rebecca Riddle.
Transport: Our very own family wagon
Accommodation: Lady Bay Resort