Gum nut head pieces, dream catchers, moroccan pouffes, cushions, floor rugs, a tipi, feathers, a sunken fire place, a retro camper van and a bouquet to conquer all bouquets. The wedding of Sally & Darren was a bohemian dream. I have never been more impressed by the styling of a wedding venue and it was all achieved through Sally's creative vision and a whole lot of helping hands from family & friends. A labor of love and a love of all things nature inspired. It helps when you have one exceptionally talented cousin/bridesmaid Emma Hayden who has a magical way with flower arrangements (emmahaydenfloraldesign@yahoo.com.au).
Styling aside, I was captivated by the light-hearted energy of the whole day. Rain clouds threatened from above all morning and released their glory right in the middle of the Ceremony. A dash for cover was simple and no smiles were stolen. The constant drizzle continued throughout photos so we threw on our fur coats and sought shelter in pines and the retro goodness of a baby blue camper van.
There was not a dry eye in the room when Darren performed a love song on his guitar to his new bride. Emotions ran high all day – even Sally and Darren's two children were affected. Laughter erupted when their youngest yelled through tears 'don't get married!' mid Ceremony.
I feel so privileged that I was invited to share this day with you Sally & Darren. Thank you for asking me and thank you for introducing me to vegan nibbles! (roasted garlic brussels sprouts in particular).
Enjoy the photos.
Sheree x
And by the way, if you happen to find yourself admiring the wooden bench seats used at the Ceremony, contact me for hire details .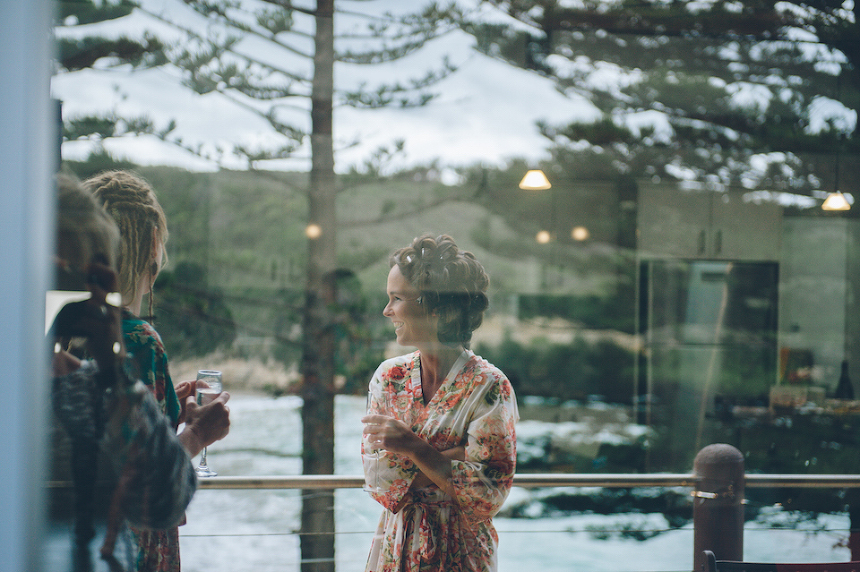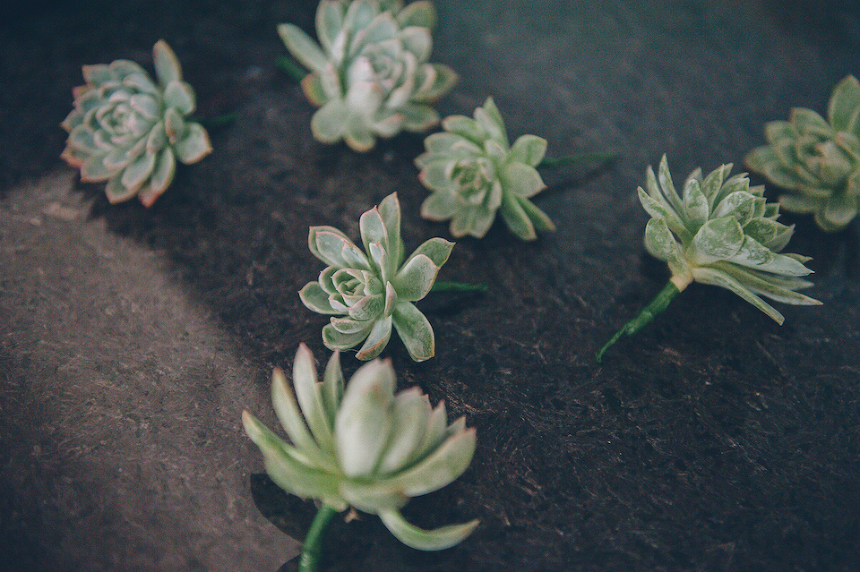 Bridal gown – Dubois Boutique (www.duboisboutique.com.au)

Flower wreath – Emma Hayden Floral Designs

Wooden Ceremony Bench Seats: Hired from Sheree Dubois Photography

Shoes – Style Tread (www.styletread.com.au)

Flowers -Emma Hayden Floral Designs (emmahaydenfloraldesign@yahoo.com.au)

Rings – Bud Knackstedt (The Silversmith Warrnambool)
Brides necklace – American Indian Squash Blossom Necklace

Bridesmaids Bracelets – ETSY – Cravejewlrydesign

Bridesmaids dresses – ASOS, FreePeople, Pip Coates, CJ

Grooms suit – Pitstop Menswear

Grooms Shoes – Aquila

Ceremony & Reception – Kangaroobie

Catering – The Fat Cow Food Co

Cake & Sweets – Kylie Treble – The Place Of Wonder (www.theplaceofwonder.com.au)

Cake topper – Emma Hayden Floral Designs
Save the Date (stamp) – ETSY – Nativebear

Invitations – Prue Cashmore

 Make up – Zel Botha (Focus On Beauty)

Music – Tom Richardson & Michelle's Velocity

Celebrant – Di Daffy

Transport – Popes Bus Lines

Cinematographer – PK & Colleen